Academic Opportunities
Hundreds of majors and special programs for every interest
Our hundreds of undergraduate and graduate majors offer a wide variety to choose from, and many of our programs are ranked among the best in the nation. Learn more about Syracuse University academics.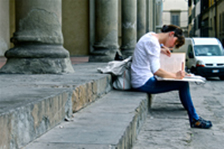 Syracuse University Abroad offers learning opportunities in more than 30 countries—many of which include field study, internships, and home stays. All coursework carries University credit, which allows you to complete your degree on schedule.
Learning Communities enable students with a shared interest to live and learn together on campus. Throughout the year, participants enjoy events and programs designed to help them connect with their interest and get to know their fellow learning community members. Choose from a variety of options, based on academic, cultural, and professional interests.
Internships can help you take steps toward your career long before graduation. Career Services offers counseling and events designed to help you find an succeed in internships. Contact them early to give yourself time to find the best opportunity and make the most of it.