TBWA\RAAD Internship Program
A six-week intensive experience for advertising and PR students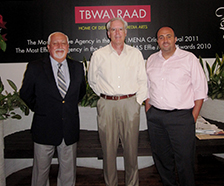 The Newhouse/TBWA-RAAD internship program provides a six-week working experience for advertising or PR students in one of the world's most dynamic and fast-developing cities. The program was established by Syracuse University alumnus,TBWA\RAAD CEO, and MENAT Regional Council Member Reda Raad '95 in collaboration with Newhouse Dean Lorraine Branham.
Kevin O'Neill, professor of practice in advertising at Newhouse, directs the program. "The single, most valuable skill in the advertising business is the ability to imagine lives unlike your own," he says. "This experience at TBWA/RAAD in Dubai—arguably the most diverse city on earth—will develop precisely that skill and prepare students for the global marketplace that awaits them. Newhouse is deeply grateful to the Raads for their continuing generosity."
Says Raad: "All of our interns get hands-on experience with real work on real clients. They get to rotate around the different departments and get exposed to live client issues."
Recent internship alumnus Candace Pugh: "This place is nothing short of amazing. The work experience has been fast-paced and exciting. I've worked on account management tasks for Google, CNN, Philips and Nissan/Infiniti. I'm also working on a blog post for the SU Middle East web page."
TBWA/RAAD was founded by Reda Raad's father, Ramzi Raad, a legendary figure in the industry. "Reda has been an active Syracuse University alumnus and he initiated this program for us," says the senior Raad. "We have always been keen to take young interns, being great believers that learning is a two-way street. We help interns to have a hands-on experience of the real-life workplace, and they open our eyes to new ways of doing things." Ramzi's other two sons, Rani and Rayan, also attended Syracuse University.
For more information on the program, contact O'Neill at kboneill@syr.edu.