Dubai Contracting Company Internships
A Four-Week Program for Civil Engineers in Dubai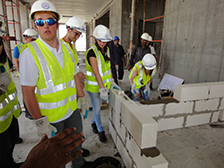 This unique program places several civil engineering students in a 4-week internship at the Dubai Contracting Company (DCC). There, they learn from engineers at DCC's Headquarters and partake in learning sessions in a high-tech classroom and at a range of construction sites to see how concepts of civil engineering apply to actual multi-million dollar projects. The program gives students the kind of experience that classroom teaching alone cannot provide. Open to civil engineering students who have completed their junior year coursework. Participants are selected through a competitive application process.
The internship was made possible through a generous gift by engineering alumnus and Syracuse University trustee Abdallah Yabroudi '78, G'79. Yabroudi serves as the CEO and Managing Director of DCC. Read more about the establishment of the internship.
Headquartered in Dubai with offices in Lebanon, Jordan and Chile, DCC employs more than 7,000 people and has managed some of the most prestigious commercial and residential projects in Dubai, including the Rolex Tower, World Trade Center Residence and the Abu Dhabi Commercial Bank.
To learn more about this internship please contact:
Andria Costello Staniec
Department Chair, Civil and Environmental Engineering