Parents of MENAT Students
Welcome to Syracuse University!
As an international parent or family member you have unique needs and questions. Syracuse University is home to around 200 students from the MENAT Region. Consider us as a resource for both new and returning parents that will include among other things, the latest news, upcoming family events, and tips to help support your student. We are happy to assist you and direct you to resources on campus such as the Parent and Family Services.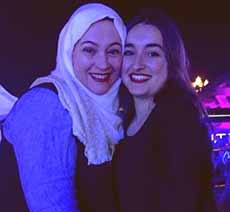 Meet Mrs. Dhaouadi , parent of a current SU student from Tunisia
Mrs.  Dhaouadi's daughter, Yousr Dhaouadi, is currently a Syracuse University  graduate student pursuing a PhD in Chemical Engineering  " Her father and I encouraged her to apply to Syracuse University  as we thought this is a unique chance to grow academically and get involved in more learning and research. She transferred to SU in 2015 from American University in Sharjah in the United Arab Emirates for her chemical engineering degree," Mrs Dhaouadi says.   "I strongly agree that what she's doing in Syracuse University will be beneficial in the future.  I don't have any regrets indeed, the only thing I sometimes regret is the distance away from her and the time difference.  But again, this is the investment we make for the future," says Mr. Dhaouadi.
"My husband and I love meeting with parents and encouraging them and their children to join Syracuse University for it has a very diverse campus, and incorporates research, academia and a great networking base for future career opportunities and social acquaintances.  " added Mrs Dhaoudi.