Abdallah Yabroudi '78, G'79
CEO and managing director, Dubai Contracting Company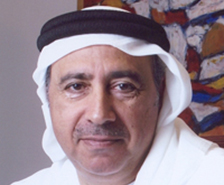 Abdallah Yabroudi, a Syracuse University trustee, is an alumnus of the College of Engineering and Computer Science and serves as CEO and managing director of Dubai Contracting Company. Headquartered in Dubai with offices in Lebanon and Chile, DCC employs more than 6,500 people and has built some of the most prestigious commercial and residential projects in Dubai, including the Capricorn Tower, the World Trade Center Residence and the Abu Dhabi Commercial Bank.
Yabroudi is one of SU's most generous and dedicated alumni. His 2008 gift to the College of Engineering and Computer Science to create the Abdallah H. Yabroudi Endowed Professorship is one of the largest in the school's history. This gift enabled the college's Department of Civil and Environmental Engineering to employ a faculty member to specialize in civil infrastructure with an emphasis on aspects of international engineering in the developing world.
As the leader of one of the major companies at the forefront of a period of explosive growth in Dubai, Mr. Yabroudi is also collaborating with SU to create one-of-a-kind opportunities for SU civil engineering students, such as the DCC internship program. And he brings his commitment to increasing the interest of Middle Eastern students in an education at SU as well as forming meaningful academic and business partnerships in that region of the world to his recent position as a member of the MENAT Regional Council.