Mehmet Ali Ozturk '27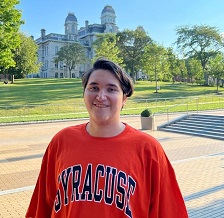 Growing up in Turkey, Mehmet had always wanted to study abroad. Interested in learning architecture like his father and sister, he found Syracuse University. His interest in SU grew stronger when he met a few alumni in Istanbul during the admitted student program, where he learned about the Turkish Student Association on campus. With SU's reputation as an outstanding architecture school and its notable alumni, Mehmet made the decision to attend Syracuse.
Mehmet is currently an ambassador for MENAT students. He loves to talk to prospective students. "I still remember how nervous I was at the start of my freshman semester, but because of the warm welcome of SU staff, students, and professors, I easily felt at home," he says. Mehmet enjoys every moment at SU and tries to be more involved each day.
After graduation, Mehmet hopes to become a practicing architect at a top architecture firm and eventually work with his father and sister.