Mina Gurbuz '23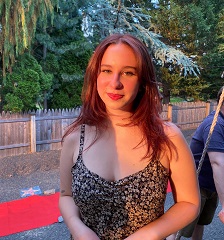 Mina was born and raised in Istanbul, Turkey. She had an initial fascination for biology and forensic sciences, however, after learning more about her family and specifically her contemporary artist aunt, she was inspired to pursue dual degrees in Art History and Film at Syracuse University. There she went on to study abroad at the Film and TV School of the Academy of Performing Arts in Prague, Czechia where she utilized her skills to write and direct her own short film.

Mina attended the Art History program's New York City trip, learning more about art conservation, meeting with museum curators and specialists from the top art institutions in the world. That same year, Mina used the techniques and skills learned from both her majors to lead the art departments of seven student film theses, collaborating with peers, designing costumes, and curating set designs.

Mina is currently working on expanding her portfolio and gaining more experience in the art direction world, with hopes of becoming a production designer to curate worlds and bring director's visions to life in the film industry. She is one of the two first recipients of the Syracuse University MENAT Regional Council Scholarship Fund for the academic year 2022-23.