SU Alumni Chapter in Saudi Arabia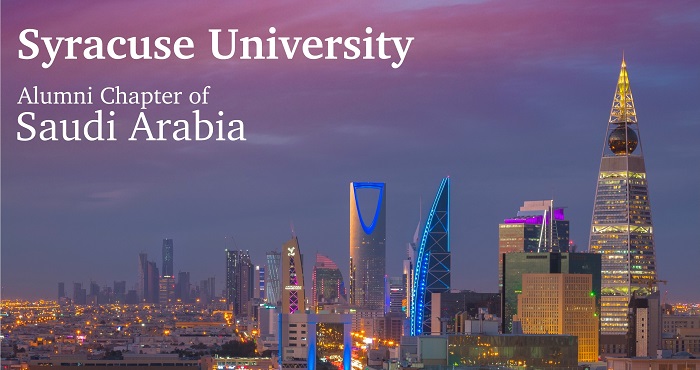 SU Alumni Chapter in Saudi Arabia
The Kingdom of Saudi Arabia is a home to many Syracuse University alumni in the Middle East. A group of SU alumni from the different regions of the country recently met and formed the Syracuse University Alumni Chapter in Saudi Arabia. Their goal is to reconnect and strengthen the Syracuse Community in the country through different types of events.
If your information such as your active email address and physical address in Saudi Arabia are updated in our records, you will automatically receive invitations to events and activities. If you are not yet receiving email communications from SU, please make sure to update your information.
If you are on LinkedIn, please join the MENAT Alumni LinkedIn Group to stay in touch with the other fellow alumni from the MENAT region.

Questions? Contact us here. We would love to hear from current and future members regarding event suggestions and other news or comments you would like to share!
Saudi Arabia Alumni Population: 200+
Founding Committee Members:
Turki Binmouamar '18 – Riyadh, Central Region
Manal Al-Shakhs '95, G97 – Eastern Province Region
Mohammed Albunyan '14 – Riyadh, Central Region
Loai Allam '12 – Makkah/Jeddah – Western Province
Nida Almukhadam G'17 – Riyadh, Central Region
Saeed Khunaizi '14, L'19 – Qatif, Eastern Region
Abdulmajeed Aldhayan L'15 – Riyadh, Central Region
Abdullah Alakil '17 – Riyadh, Central Region
Ahmed Alakeel '11 - Riyadh, Central Region
Abdulrahman Aloriny '18 – Riyadh, Central Region