Anika Sahityani '24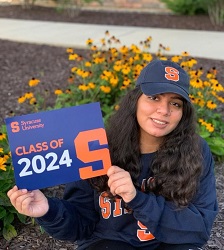 Anika was born and raised in New York and later on moved to Dubai where she spent her middle and high school years. Her parents are from India. Anika always knew that she would go back to New York for college and that's where she landed on applying to SU and was admitted.
Anika applied for Management major but realized during the first year that it wasn't the right fit for her. She decided to change her major, and she is now pursuing a dual major in Finance at Whitman School of Management and Information Management and Technology at the School of Information Studies. Anika chose Syracuse because of the flexibility it offers in declaring a major, the IMPRESS Program, strong alumni network, and the various clubs and organizations the university offers.
Anika serves as a MENAT Student Ambassador, where she speaks to prospective students from the MENAT region during college fairs and other student recruitment related events. Anika is also a Peer Mentor for Whitman where she helps first year students adjust to college life by providing them with resources and information around SU and Whitman. She is a Connections Mentor for the International Center, where she facilitates a smooth transition into the SU community for international students. Anika is also a Finance Committee member for The Women's Network-Syracuse, as well as a member of her sorority, Alpha Gamma Delta, The Investment Club, and TAMID.
Pursuing a career in Financial Consulting company is Anika's ultimate career goal after graduation.