Nabil Habayeb '80, G'82
CEO, GE Middle East, North Africa and Turkey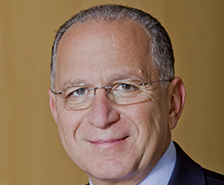 Nabil Habayeb is president and CEO of GE Middle East, North Africa and Turkey. He is the first Arab to hold this title for GE. Based in Dubai, Nabil is responsible for developing and expanding the growth of GE's different businesses across the region.
Habayeb earned his undergraduate and graduate degree in mechanical engineering from the College of Engineering and Computer Science. He joined GE Power Systems' Field Engineering Program in 1982 and held several field assignments internationally. In 1985, he moved to Dubai where he held various sales positions covering the region. Another move came in 1989 when Habayeb returned to the U.S., this time to Schenectady, N.Y., where he served as commercial operations manager for the Middle East. The year 1993 brought him back to the Middle East where he now serves as regional president and CEO for GE.
Ever since Habayeb graduated, he has been an active supporter of SU. He was instrumental in orchestrating the 2011 visit to the university by HRH Sultan to receive the Chancellor's Medal. He is a founding member of SU's MENAT Regional Council.