Rand Aldukhayil '24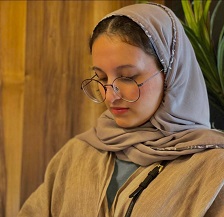 Rand was born and raised in Saudi Arabia. Her interest in art and design was introduced to her by family members from a young age. She knew ever since that she wanted to work in the design field. To achieve her career goals, she decided to study abroad to get a better education. Rand is currently enrolled at the College of Visual and Performing Arts, majoring in Design Studies.
What made Rand choose Syracuse University is the unique design program the university offers. Her ultimate career goal is to create her own design firm back in Saudi Arabia, so she decided to take a minor in Entrepreneurship.

Rand serves as a MENAT Student Ambassador with a goal of having more students from her home country to attend Syracuse University. She came to SU with the dream of pursuing her interest in art and design while being involved in student organizations, doing social activities, and creating lifelong relationships.