Soniza Khan '21
Public Health, Kuwait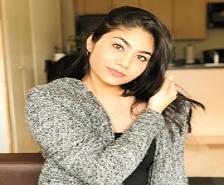 Soniza Khan was originally born in Pakistan but moved to Canada with her family when she was two years old. Then they moved to Kuwait and lived there for about 10 years until she decided to study in the United States.  What made her choose Syracuse University was due to the fact of what she experienced when dropping her sister off at SU.  She noticed how culturally diverse and how accepting everyone was. The simplest things made her feel welcome there, for example if someone was lost, they could easily ask anyone, and they would even lead them to where they wanted to go. This only showed how welcoming and friendly everyone was, from the faculty and staff to even the students.  "My favorite memories consist of all of the great people that I met in classes or at events on campus" she says.
She is perusing an undergraduate degree in Public Health and is excited about all of the opportunities that have come up over time. What she found most helpful was how the school aided students by having job and internship fairs as well as help with communication skills.
After graduating she is planning on perusing a graduate program in Public Health and then working in a hospital as a public health administrator to try to erase the implicit bias and discrimination against people of color or minorities which exists.